Google- If you hear it, in your mind first thought will be Search Engine. Which is a tool used to find whatever we want by just typing on the search bar. Google will answer all you question which starts from what, how, which, where, why, who whatever you want search for. It made the person's life so simpler and very easier. Google changed the whole internet revolution, it helped lot merchants to grow their business, by listing their business in Google My Business directory, a platform to showcase their products or services. So coming to the point, what has to be discussed!
So there are many Google products, one among them is Google Assistant.
So Google Assistant What is it and What is the use of Google Assistant?:
So Google Assistant is a VPA- Virtual Personal Assistant developed by Google and was launched in May 2016 by Google CEO Sunder Pichai and it is integrated with Google's messaging app Google Allo. Google assistant can engage you in 2 ways conversations. And it was made exclusively launch with Google Pixel and Pixel XL smartphones. And the google assistant feature began to come up with Other Android Devices as well from February 2017. And it happened the same thing in IOS Platform as well, they copied the concept of 2-way conversation and came up with the new app called Standalone.
And this Google Allo is supported only in Android 6.0 Marshmallow and Android Nougat7.0. And this app only responds only if you speak or type in English. It looks like in this way.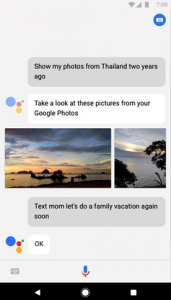 So It makes easier to access whatever you want what I have discussed in the above section.
Features of Google Assistant and How to make the best use of Google Assistant:
Google Assistant can Unlock your phone:
Instead of simply solving the pattern, typing the password or fingerprint method on the phone to Unlock your phone, You can just allow google assistant to recognize your voice and unlock your phone. To do enable this feature, Go to Google Assistant settings and select "OK Google Detection followed by trusted Voice". So that you will be experiencing the hassle-free to unlock your phone.
Open Apps using Google Assistant:
If you have a lot of apps in your phone, when you are unable to find the apps, you can simply-For Example- "Ok Google, Open Gmail, or Ok Google, Open Google Drive". And also you can open third-party apps as well like Gallery, messaging app, Whatsapp and more by saying "Ok Google" as a prefix of "any app name".
Search Images using Google assistant.
You can simply say Ok Google, Show me the images of mountains, animals, best places to visit or whatever images you want to search for.
Use Google assistant to know where to dine out, drink or party:
Google assistant help you to find the nearest restaurant, pubs, and cafes nearby, just by saying" Ok Google, restaurants near me".
Use Google assistant to play your favorite movies:
Just say "Ok Google, Play Bahubali 2 movie in Hotstar". Instantly you will be redirected to the movie.
These are the features Google assistant has.
And also I will update more features soon.
Similar Posts: