Hi, Guys today we are here with PayTM Kurkure Offer, where you will get paytm cashback on every purchase of Kurkure. This offer is available on Rs.10 / Rs.20 / Rs.35 pack, visit a nearby store and buy it. Only buy the Kurkure packet where the offer is mentioned. Because you will find a code inside the packet.
If you want to see more products which offers free paytm cashbacks, check this paytm cashback products.
You will get Paytm Kurkure redeem code
Steps to earn Paytm cashback using Kurkure Packets
1. Buy Kurkure Pack from your nearest store Worth ₹10 Or ₹20 Or ₹35 from Your nearby stores.
2. In the pack there should be Paytm cashback badge mentioned.
3. Check inside the pack there is 16-digit code, which need to be entered to redeem it.
4. Now go to this Paytm KurKure offer page.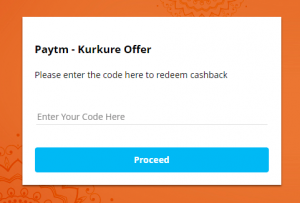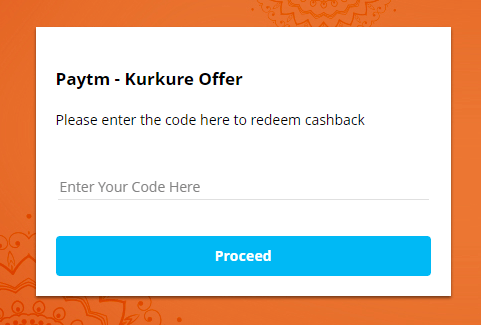 5. In the Kurkure redeem page you need to enter the code inside the Kurkure packet
6. Now click on proceed in the next step.
7. This Offer can be used only 5 times during the offer period.
8. So if you buy Kurkure pack of Rs.35 5 times you will get total 35*5 = Rs.175/- paytm cashback.
So redeem the Kurkure paytm code now and earn max paytm cashback.
Similar Posts: