Helo Techholicians, today I am going to tell you how to get Rs.50 Paytm cashback. As you can see paytm is giving lot of cash backs like by installing apps, by purchasing products in offline stores, paytm mall and in other forms. Upon these trending cashbacks, UPI platforms have risen up like Bhim app, Tez app, PhonePe and others too and these started giving cashbacks as well, so even Paytm also thought of striking UPI World as well, So Paytm tied up with an major UPI Platform that is BHIM UPI App. So Now let us know how to get Cashback using this method.
Also Check:
Steps to get  Rs.50 Paytm cashback:
Step 1: First you need to have Paytm app if you don't have Paytm app download here and create an account.
Step 2: Open the Paytm app
Step 3: After opening the Paytm app Sign in to your account, if don't have create one.
Step 4: After logging in, you can see BHIM UPI icon on the homepage itself, click on it.
Step 5: Now you need to select your Bank on that page. (Note: You need to select the same bank which has the same Paytm registered Number)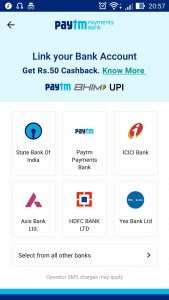 Step 6: After Selecting the bank Paytm will send the verification to the same number and it confirms the bank details.
Step7: Soon after this Paytm UPI account will be created which look like this (81******67@paytm). Even you can change this UPI ID also.
Step 8: Now send the money to your friend minimum transaction of Rs.50 and get Rs.50 cashback. And this offer can be used only once.
Terms and Conditions:
Create new UPI address with Paytm, to get cashback you have to do the first transaction on the day when you create the UPI account in paytm.
This offer is valid on First transaction minimum of Rs.50.
Offer started from 13th December and valid till 3rd January 2018.
Similar Posts: