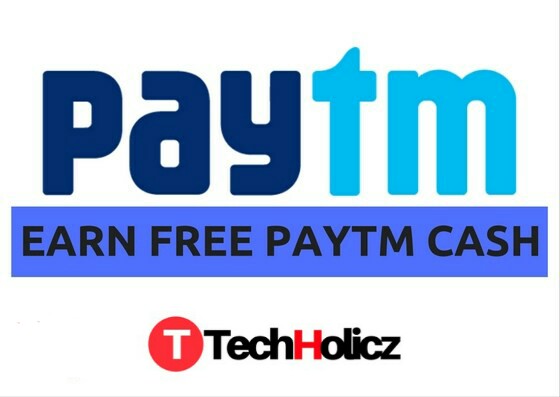 Paytm cashback offers:
In a country like India, people look for Savings wherever they can make. So I came up with some products which offers free Paytm cash. Paytm cash is one of the best methods where we can save our money. Paytm offers cash backs in various ways like by making a transaction in the merchant outlets, online shopping through Paytm Mall app, and by recharging our phone, DTH using Paytm so that you will be getting cashback to your Paytm account. But now Paytm is also offering a Paytm cash in products as well. Recently I have visited some Supermarket Store where I have found lot of products like biscuits chocolates where we can get cashback if you purchase those products. Paytm cashback starts from Rs.10 to Rs. 90. If you want to more paytm cash other than buying products, you can check into refer and earn apps list, wherein you can earn paytm cash using apps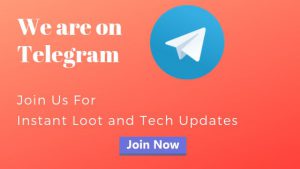 Here is list of some Products which gives paytm cash with proof :
1.  Buy Products worth Rs.600 for free in Paytm Mall App
Hi Guys, now you can get products from Paytm mall App. for free when you shop for Rs.400 or Rs.600.
So here are the steps to get Rs.600 cashback.
Firstly download Paytm Mall app and login to your account.
Now visit the Paytm Mall products suggestions category
You can get cashback for only on those products which is in above link.
And this offer is only valid, if you haven't used "ONCEAMONTH" promo code this month.
Now add product worth Rs.299+ in you cart and add promocode "ONCEAMONTH"
Next add another 2 more products worth Rs.200 in cart.
Now apply this promocode " FIRSTTIMELUCKY" in the first product.
And then Apply "FASTAGMALL" in 2nd product. And then place the order using Paytm wallet.
Yeah, Here you go, you have got 100% cashback for all the 3 products.
Once the order is shipped you will get cashback for all the 3 products
Note: But you need to pay only extra shipping charges
2. Baskin Robbins-Happy Summer deal- Get Rs.65 Cashback.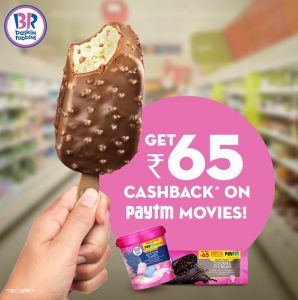 Make this summer the happiest one with Baskin Robbins!
Purchase 65ml or 125ml Baskin Robinns cone sticks and get Scratch card .
Scartch the scratch card and get get paytm unique code
Use that code while booking movie ticket using Paytm app.
And get Rs.65 cashback to your paytm wallet.
3. Snickers chocolate -MRP- Rs.40 and Paytm Rs.20 cashback.
Note: Offer valid until 31 March 2018.You can 3 times per user.So rush to the nearest store. You can earn more cashback by creating multiple paytm accounts.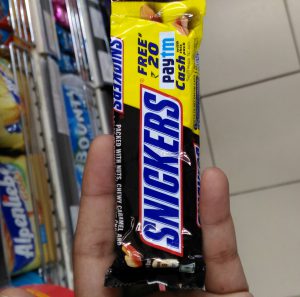 4. Parle Bakesmith Marie- MRP -Rs.25 and Rs.18 Paytm cash.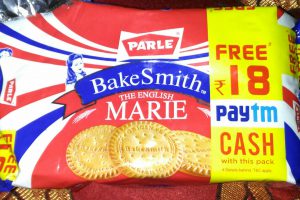 Buy this pack and you will get unique coupon code inside the pack.
Now you have to visit paytm.com/bakesmith to redeem Rs.18 cashback .
This offer is valid only for per paytm user.
This offer is valid till 15th February 2018.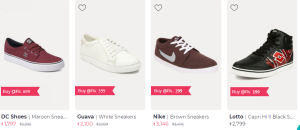 5. Hide N Seek Choco Rolls- MRP – Rs.25 and Rs.12 Paytm cash.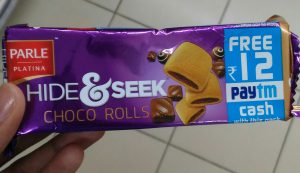 Buy Hide and seek choco rolls for Rs.25. And you will find the unique coupon code inside the pack.
You can redeem it by scanning the QR code using paytm app which is present in Wrapper or visit Hide n seek redeem page here.
Enter the unique code in that page and hurray you will get your Rs.12 paytm cash.
This offer is valid only once per user.
This offer is valid till 15th February 2018.
6. Hide n seek choco rolls MRP- Rs.50 and Paytm cash – Rs.25
Follow the same steps which has explained above for the hide n seek roll pack of Rs.25

7. SALSALITO Nachos- MRP – Rs.90 and Paytm Mall cashback – Rs.90 (100% Paytm mall cashback).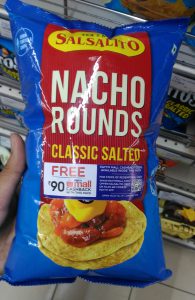 Buy Salsalito Nachos for Rs.90 and get Rs.90 cashback that is nothing but 100% paytm mall cashback.
After purchasing this pack, inside the pack you will get a unique code card.
Now to avail cashback , you have a purchase of minimum Rs.200 in Paytm mall app.
In checkout page you need enter that unique coupon code.
Hurray you will get Rs.90 cashback to his paytm mall app.
8. Brylcreem 75g MRP .Rs.85 -Paytm cash- Rs.20. Valid only for once per user. Offer ends on 31st March 2018.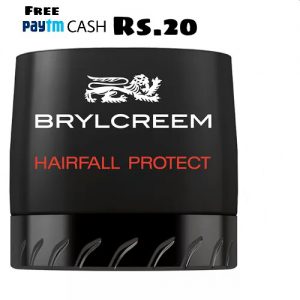 This offer is only for one-time user only,
And this offer is valid till 31st March 2018.
9. Pepsodent toothpaste pack 200 grams. MRP .Rs.86 and Paytm cash. Rs.25.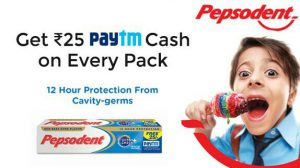 Valid only 3 times per user.
Offer valid till 31st december 2017.
Visit nearby stores now to avail this offer
10. Closeup Paytm cashback offer- Get Paytm cash of Rs.25.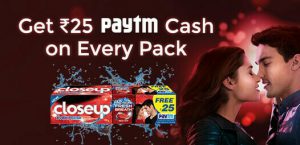 Buy Closeup of 200g worth Rs.86 and get Rs.25.
It is valid only 3 times per user.
Offer Valid till 31st December.
11. Cadbury Dairy milk silk paytm offer: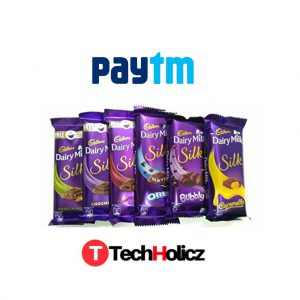 Buy a cadbury silk and get Rs.100 paytm cashback when you book minimum 2 tickets in paytm.
A user can avail this offer only for 3 times and this offer is valid march 2018.
12.Coca-Cola New paytm cashback offer: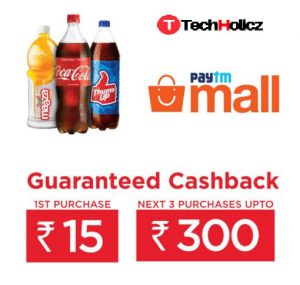 Buy any coca cola products-Coca cola, Thumbs up or Maaza of 600 ml and get Rs.10 paytm cash. And if you buy 750ml of any of those drinks get Rs.15 Paytm cash. And this offer is only valid for the first redemption.
You will also get free cashback for 2nd, 3rd and 4th purchases. And this cashback will be valid only on purchase in paytm mall. Here is cashback details:
If you purchase a product worth Rs.150, you will get Rs.50 on 2nd redemption.
If you purchase a product worth Rs.300, you will get Rs.100 on 3rd redemption.
If you purchase a product worth Rs.450, you will get Rs.150 on 4th redemption.
13. Devaaya Rice Products Paytm Cashback (Expired):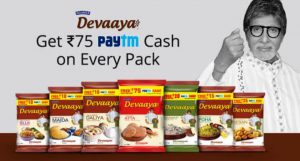 Buy Devaaya Rice products and get Paytm cash Rs.75 with every pack.
You will find the code inside the pack.
Then visit the redemption page click here.
Enter the code and then press proceed button.
Once you done with it, you will get your paytm cash instantly to your paytm account.
You can redeem this offer only once.
This offer is valid till 31st January 2018.
14. Appy Fizz Paytm cashback offer- Get Rs.100 Paytm mall Cashback: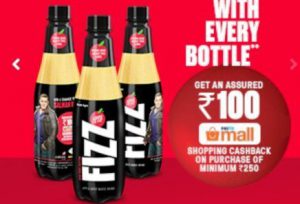 Appy Fizz Paytm mall offer- It is Bigboss Appy fizz offer.
Buy a Appy fizz 600ml in which Paytmmall offer is mentioned in the bottle.
You will find the code below the cap level of the bottle.
Then send that code by composing the message to 9230355555
Now you will receive Paytm mall cashback code through SMS.
Now you can use this code while shopping through Paytm mall app and Rs.100 discount on minimum purchase of Rs.250.
15.Bigbasket Paytm offer (Expired):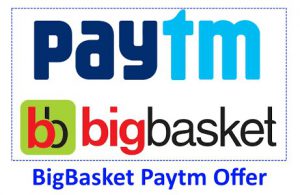 Here comes the new offer Bigbasket Paytm offer.
Make a minimum purchase of Rs.1000 in bigbasket and get assured paytm cashback of Rs.100 .
Maximum cashback is Rs.100
This offer can be used only 3 times per user.
Offer is valid from 1st December to 31st December.
Here are the some products where we can get some cashback and save our money. So rush to the nearest supermarket stores. And search for the only packs which has mentioned Paytm cash.
Many other offers will be updated soon on this blog related paytm cash offers, amazon vouchers and more.
If you have any doubts regarding these offers and If you know any other products giving cashbacks, please share it here by commenting down below.
And also I am coming up with free paytm cash trick, so that you will be getting more and more cashback through paytm, Paytm cash tricks like by downloading apps, completing surveys as well.
Recently I  have come up with the new way to earn cashback that is through Amazon. Also Check this post out List of Products giving Amazon cash in December 2018.
I will come up with more deals soon, until then you can check out Amazon offers as well.
For more cashback related offer only techholicz
Also like our facebook page , and stay updated with latest deals, offers, and trending technology news.