Nowadays people prefer PC controllers to keyboards and mouses. This PC controller has many advantages than the usual keyboard and mouse. Finding a pocket friendly and a best PC controller is somewhat difficult. Ranging from the simple analogue joystick controllers to the latest and greatest flight control replicas, the best game controllers for PC have a lot to offer for many different genres. In this article I am going to help you in getting best PC controller as per your needs. These 10 PC controllers are picked carefully by their usage and customer reviews. 
Top 10 gamepads
1. MYGT C04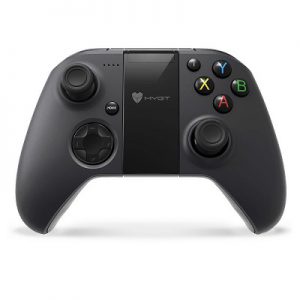 It has an Ergonomic design that fits perfectly in your hands and feels great for hours of use. The clickable joysticks, easy to use buttons and smooth responsive shoulder triggers put you in the center of the action. It was subjected to a Pressure test of 1000000+ presses that assures you quality and durability.
It supports various devices such as Android Smartphones, Tablets, Smart TVs, TV Box, VR, Windows PC and PS3. This uses Bluetooth for connection to Android devices. The 700 mAh lithium battery provides you 18 hours of continuous gameplay with a 12-month stand-by time. Get it on Amazon.
2. Quantum QHM7468 USB Gamepad with Dual Vibration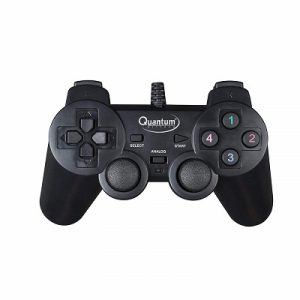 If you are searching for a cheap and best gamepad this is the right one for you. The game controller by Quantum has a soft touch and is easy to hold. It is made with high quality ABS plastic material which is sturdy enough for your tough gaming sessions. The buttons are also easy to grab and operate for a smooth functioning and uninterrupted gaming.
Quantum's gaming mouse comes with a vast spectrum of 8 fire buttons and 4 Axis control for an intense gaming environment. It is just as easy to plug and play and no software is required for installing the same. This precise, consistent and highly efficient gamepad is USB compatible and is supported by Windows 10/8/7/Vista/XP/ME/2000 and others. There are also vibration feedback motors to communicate with the users with the use of touch. Get it on Amazon.
3. Redgear Pro Wireless Gamepad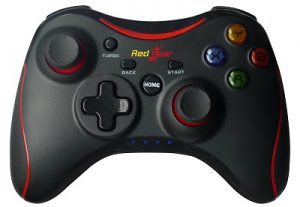 The revolutionary new turbo mode in the gamepad allows you to configure your weapons to shoot in bursts. It gives you a tactile advantage in shooting games. The gamepad has an integrated dual intensity motor which allows a realistic gaming experience. Now experience the crashes, bumps and shots with a realistic intense vibration!
The built-in lithium-ion battery in this gamepad allows you to game like a pro for up to 10 hours on a single charge. A single charge for upto 30-minute can provide uninterrupted gameplay for up to 2 hours. This would be the best ever gamepad, you are looking for. Get it on Amazon
4. Live Tech GP01 Turbo Double Vibration Wired Gamepad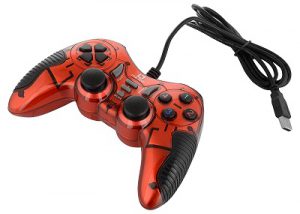 The Live Tech Turbo gamepad has been meticulously designed to deliver a smooth performance and boost your gaming experience to the next level. This wired controller is compatible with windows (XP/7). The gamepad is equipped with 8-way directional buttons tailored to generate a seamless input and efficient control system.
This gaming controller facilitates easy maintenance and care. It is long lasting with good durability and performance. The buttons feature a standard layout and facilitate a responsive operation. They are well designed to offer great comfort and control to play games without straining your fingers. It is a cheap and best gamepad. Get it on Amazon
5. TASLAR Wireless Game Controller Phone Gamepad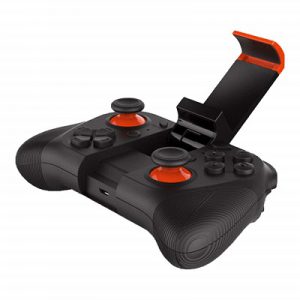 It is a wireless Bluetooth Controller
All-in-one /Android Smartphone Gaming Controller. This is a Multimedia Controller. It has a smart bluetooth connection for Android phones and a smart controller auto identify Android.
Supports most major games and online games, hundreds of simulator games
Android (standard/mtk), newegg, icade, nibiru and more. It supports only those game That have control options of gamepad, So Please Check Your Favorite Game Control Settings Before Buying (Does Not Support For PUBG). Get it on Amazon.
6. Logitech G F710 Wireless Gamepad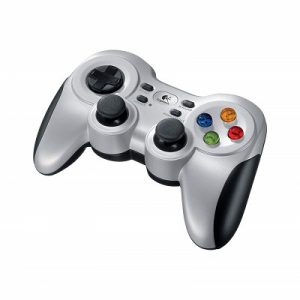 For every PlayStation gamer finding the right gamepad is undeniably important. The Logitech F710 wireless gamepad comes with powerful features like, programmable buttons and pressure-sensitive triggers. It is wireless and sturdy, and comes with rubber grips, keeping the controller firmly in your hands. The gaming controller comes with a Nano Receiver which gets inserted in the USB port on the controller for fast, 2.4GHz data transmission without any delay or interruptions.
The controller works with Android TV, you can smoothly navigate through the TV settings using the Back key on the controller, which is highlighted with the Logitech's logo. With a unique Big Picture feature you can surf internet, play games and do much more. The in-built XID mode in the gamepad makes performance extremely smooth and gives you an edge over your competitors. Meanwhile, gamepad is compatible with Windows 8, Windows 7 or Windows Vista and comes with manufacturer warranty of 3years. Get it on Amazon.
7. Logitech F310 Gamepad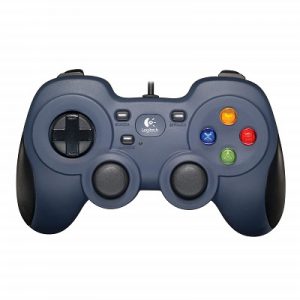 Experience the console-style gaming you crave on your PC. With a familiar console-like layout, easy-to-customize controls and extensive support for your favorite hits and classics, F310 is the perfect controller for serious PC gamers. It requires software installation.
Pick it up and play using the familiar button layout and shape designed with comfortable smooth curves and contoured rubber grips. You'll also enjoy the more responsive, tactile feel of our exclusive 4- switch D-pad. It glides over four individual switches, eliminating the mushy control common to standard D-pads that have only one pivot point. Get it on Amazon.
8. BEBONCOOL Wired Gaming Controller,USB Wired Gaming Controller Gamepad with Dual Turbo Vibration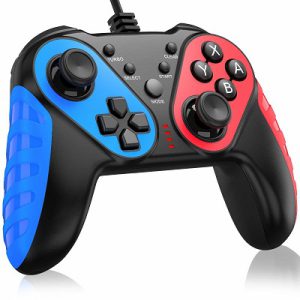 The Game Controller default is PC-Xbox360 mode,you can press mode key to change mode. Adopt with USB Cable Connect,You can start playing right after getting the Gamepad to your hands. The USB cable extends 2 meters long (6.5 feet) and you can play sitting a bit far away from the console.
The asymmetrical design of the joysticks is based on ergonomics and designed for the most comfortable thumb position. Ensure you optimal feeling when playing. The Gaming Controller is built in Two Vibrating motors in the side grips and deliver distinct feedback during the game, enhancing the immersion and realism of the game scenarios. Get it on Amazon.
9. SAITEK P220 PC GAMEPAD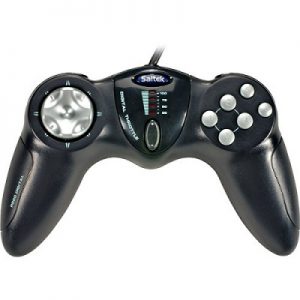 Game players of all levels will excel with the aid of exciting new features and true ergonomic design. Acceleration is swift and controlled via dual mode digital throttle and an enhanced LED indicator.
It includes 6 conventionally positioned buttons, a digital 8-way D-Pad and 2 rapid-fire shoulder triggers for absolute control. Simple USB plug-&-play interface delivers instant gameplay. Get it on Amazon.
10. Microsoft Xbox 360 Wired Controller GamePad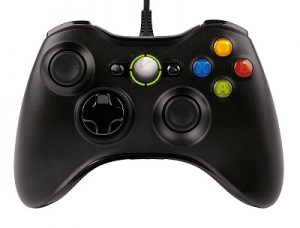 This Azon gives you a best game play with the precise thumb sticks, two pressure-point triggers and an 8-way directional pad help you stay in control. It has a flexible cord with thin and flexible cord, that was designed to provide the sensation of wireless with all the performance of a wire.
A compact, ergonomic shape lets you play comfortably for hours on your PC or Xbox 360. The built-in Vibration feedback gives you a riveting gaming experience. Get it on Amazon.
Conclusion
I almost gave the best gamepads ranging from the cheapest to brightest one. So choose the one which suits you better.
Similar Posts: