Magisk Manager is an application that helps you to root your Android device and make system modifications without worrying about the intricate art of programming and the nerve-wracking thought of damaging your device. Magisk Manager was developed by topjohnwu and is one of the safest apps that allow you to customize your device without harming your in-built system software. Along with this apps ability to root your device "systemlessly" (as the system-boot partition is left untouched) it also brings the joy of several cool features- it has modules that can enhance your apps' efficiency, remove kernel features etc.
But while these features let you mold your device to suit your needs you will often find several applications refusing to run on your device because of the SafetyNet API which identifies changes made in the system due to rooting and prevents apps like Netflix, Snapchat, GooglePay etc. from running on it. So should you uninstall the Magisk Manager and lose all your cool tweaks to various apps? Of course not! Because this app just gets better. It allows you to hide the systems root from the apps of your choice. Do you want to know how? Read on.
Features of Magisk Manager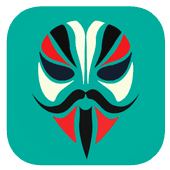 The Magisk Manager needs no more praise than has already been bestowed on it so far in the article but its features are such that one just cannot stop raving about them.
It's a Free

–

and Open Source Software (FOSS) that is anybody anywhere in the whole wide world can download and install the Magisk and use it for their Android.

Magic Mount- It works without tampering your device's actual system partition and boot partition. It creates a Systemless Interface making it completely safe to use on your device.

MagiskSU- This feature allows you to make developer-level modifications.

Unlike KingRoot and Zroot it does not install bloatwares and Spywares.

MagiskHide- The feature you have been waiting for! This app allows you to avoid the scrutiny of those apps that bar rooted devices from accessing them by identifying root modifications.

Modules: Like Xposed Framework Magisk comes with its own paraphernalia of modules that can be easily downloaded to customize your relevant apps and system features.
Setting Up Magisk Manger
Magisk Manager is not available on Google Play Store but since it is an FOSS it is freely available on the Internet for download. Install the latest version's APK and allow to side load. You can install the relevant modules to modify your device from the side menu. Simply select the module and install after carefully reading the features of the module from the pop-up that appears. 
Using MagiskHide
So now the Magisk Manger is up and running and you have encountered trouble opening your GooglePay app or Netflix or Snapchat. What to do? Simple follow these steps.
Step 1: Open the MagiskManager app.
Step 2: Open Settings and find MagiskHide. Turn the toggle switch on by tapping on it.
Step 3: Open the slide-out menu from the top left button. Now you'll see the MagiskHide option.
Step 4: Open MagiskHide. A list of apps that are installed on your phone will appear.
Step 5: Select the apps from which you want to hide the roots by simply tapping on them.
And you are done. Exit the manager and open your apps. They should be working flawlessly now. 
In case the issues persist you might have to completely hide the root from the apps as they might be programmed to scan your internal storage for Magisk files without your knowledge and consent (for example, PokemanGo). Apps like these are programmed to scan your device to find any files that may be connected to the magisk thus a fool-proof way is to randomize the name of the files and it super easy too. 
Randomizing the Package Name
A package name is that which the "problem" apps use to track the Magisk features on your device and prevent them from working on it till you remove them. A simple solution- change the name and avoid detection.
Step 1: Open the MagiskManager App
Step 2: Go to Settings and find Hide MagiskManager.
Step 3: Click on it and initiate the randomizing process which will conclude in a short while.
This not only changes the package name but also changes the name of the app from MagiskManager to just Manager thus removing the keyword for search that would help avoid detection. Now, combine this feature with the MagiskHide process stated above for the particular apps and you are good to go.
It is not necessary to reboot the device to bring these changes into effect but in case they don't appear you may reboot it once. 
Similar Posts: