As you know smart digital voice assistants like Amazon's alexa, Google home etc are currently booming. In CES 2018 we have seen Smart voice assistants are integrated into laptops, refrigerators, Automobiles etc. Now there are some devices for which smart voice assistant is not integrated,  But these devices are eligible to integrate with Alexa or Google home, So today we got a news that there is one more device which can be integrate with Voice assistant.
The whole idea was integrating the Amazon's Alexa is to control the dish set top box with voice. 1 year ago dish tv has launched Amazon Alexa features on Hopper and Wally set top box ranges. User was able to change the channels, search for the favorite shows with thier voice. This time Dish has officially announced that the users will be able to start recording the favorite tv shows, movies, launch apps on Dish Hopper range of set top box with help of Amazon's alexa powered echo device. This will make the user experience even easier.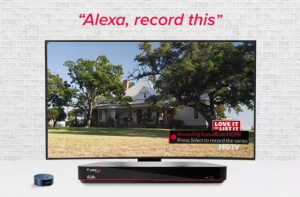 With this unique feature, just you need to say" Alexa Please record this show" instantaneously your show starts recording, And also like" Launch Hotsar" alexa will recognize the sentence and starts taking the action simultaneously, so this amazing feature which we have never expected.
Also you can check more information alexa dish Hooper integration over here.
Similar Posts: