Checking plagiarism is very important and indispensable in content writing. For whatever reason you are writing, making your content plagiarism-free is necessary. And for that very purpose, you need to have a handy plagiarism checker tool in your reach.
Though, it is very tough to check a paper for plagiarism manually by matching your written text to the original content.
Also, this is very time-consuming, tiring, and almost impossible even if your composed text is 100 percent original and fresh.
However, plagiarism checker tools have taken control of this boring checking process and provide results in seconds.
An excellent plagiarism tool is evenly helpful for all writers, either it is a student, blogger, webmaster, content writer, or researcher.
This guide is for you if you are looking for the top highly recommended plagiarism checker apps that you can install on your androids without any hassle.
What is plagiarism checking and why it is essential in content writing?
Plagiarism checking is a process that tells you the ratio of your content to the duplicated content that it finds similar upon scanning the web content.
The whole process is a matter of no time if you are using an efficient and reliable plagiarism checker tool.
All plagiarism checkers hold strong databases that work well in highlighting all the matched copied content in your content by scanning millions and trillions of online content sources.
Checking plagiarism is a must-do step after completing your writing piece as copied content is not tolerable on the internet.
Duplicated and copied content means the same sentences and words that match the source and it leads to the penalization of your website as well as your writing career.
Furthermore, plagiarized content also greatly affects your website ranking on search engines and a website without any better rank is just like a bicycle without tires.
Nowadays, all of the businesses are important tasks are carried out on your smartphones. Every other writer is using the cell phone for sending files and reviewing content quickly.
So, important tools that facilitate the writing process must be available on smartphones for completely free.
In this context, a good plagiarism checker must also be available on your smartphone anytime you need it.
Here we are mentioning the top 5 best-recommended plagiarism checker tools to verify the originality of your content directly from your smartphone.
1. Plagiarisma.net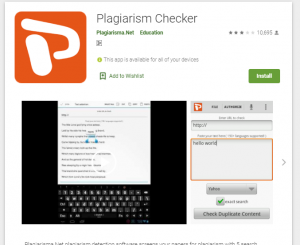 It is one of the best plagiarism checker tools that works best on smartphones. This anti-plagiarism tool can check copied content in more than 90 languages. The tool is developed by a site, plagiarism.
This amazing app never saves the uploaded content that is of course a huge bonus. No one wants his written text to be stolen by any other website in its databases.
The reason why this tool is on our list is that it offers the best plagiarism checker app for smartphones. Download this app from the play store and start checking your content for plagiarism-free.
Key features of the app
It also gives an option to check grammar and spelling as well.
Hyphenation and capitalization can also be checked by using this app
It is completely free
Easy to use
Converts TXT, HTML, PDF, XLS, DOC, DOCX, ODT, ODS, ODP, FB2, EPUB
Unlimited usage without any registration
Supporting google voice
Can be installed on SD cards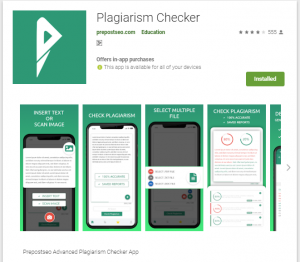 It is the best free plagiarism checker app for writers who need to verify the authenticity and originality of the content of unlimited files. You just have to copy/paste or upload text files within the app and it will give results in percentage so that you can have a better idea of the originality of content.
This great plagiarism detector app not only confirms the uniqueness of content but you can also check your emails, description texts, and other formal writings.
Key features
Easy to access and use
Entirely free of cost
Provide results in percentage
Generates report automatically
Supports Doc /. TXT / DOCX /. PDF file formats
100% safe and secure
3. Plagy Plagiarism Checker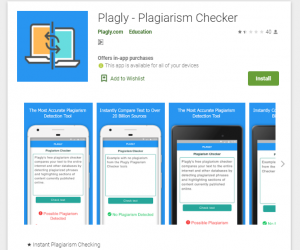 Plagly is a plagiarism detector that identifies plagiarism from over 20 billion sources in your content. This is the best and trusted plagiarism checker tool for teachers, students, authors, content writers, and SEO specialists.
Key features
Quick and easy to use
Plagly is continually improving its algorithms to make searches accurate every day.
Plagly also helps you evaluate the material on your site for exposure and readability apart from plagiarism if you wish to optimize content for a better ranking.
It may also be used as a reviewing tool that prevents grammatical mistakes.
It gives instant results
4. Synword Plagiarism Checker and Paraphraser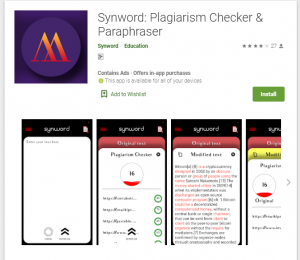 This is also a plagiarism checker app for which you do not have to pay as it is flat-free to use. This strong online plagiarism tool scans your complete file in just two clicks. Synword will be a helpful app if you need to perform a lot of checks in less time.
This app works great for bloggers, students, or journalists.
Key features
It is also free to use
Compares your content with trillion of online sources including scientific reviews.
This might be quite beneficial for those who desire to publish journal papers or journal articles.
Simple layout
High-quality plagiarism checks
The 20,000-character limit in one go
5. Plagiarism Checker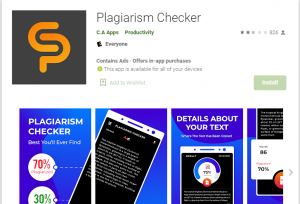 If you are looking for an app to analyze the quantity of duplication identified in your material in detail, you have chosen the right tool.
This is the software that is designed for Android users to scan files for plagiarism. It's a useful application that can identify plagiarism from any material it examines. It can be a research paper, a website, a picture, or anything.
Key features
The application enlightens you on exactly how much text is duplicated.
This might be excellent particularly if you already have a defined duplicate restriction for composing a piece of writing.
It also displays all the website sources from where the text may be copied from.
The OCR capabilities enable this Plagiarism testing app to automatically recognize text from live webpages, or pictures
It takes no time to produce outcomes.
Wrapping up
Producing original material for the web is not that easy for everyone, it requires a lot of effort. It is really hurting when someone else would be honored for what they've not done themselves.
So, it is important to generate every piece of writing unique and original to avoid duplicate content.
We hope you will no longer have to worry about duplicate material using these solutions for plagiarism detectors that we have mentioned above.
Try these applications and enjoy the plagiarism-free text.
Similar Posts: