Google came up with new device, Tech Gaint said that on Thursday they are launching a radio-style, on demand audio news feed which will be integrated in the smart speakers and it is personalized to the users with AI features.
To deliver this radio user experience Google said that they have partnered with many news organizations, so that all the news feed related to any niche will be covered.
The product manager of Google Liz Gannes said that Google has designed this feature in terms of playlist to get best user experience. The interface will be having brief about top stories related to different topics and longer content so that you can get in detail stories.
Google Assistant, the AI program developed by the company, will manage the feed, allowing users to skip a story, go back or stop.
Google said that, the audio news feature will be only available for the limited number of users in United States as of now.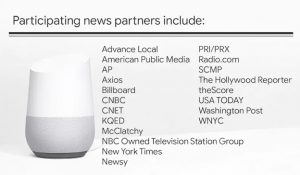 This new project of Google will deliver best user experience interms of audio so that old generation radio news will be still alive, and most of them still prefer hearing news rather reading. Hopefully users like this audio news feature.
Similar Posts: