After the Apple's macOS Mojave rollout, to compete with Apple's Mojave Google announced a major change to its 'Feed'. Google Said that it has renamed or rebranded the Google Feed to Google Discover. The change is in the mobile search new section have been implemented that is "Discover", And also comes with the new look and other changes as well.
So what is Google Discover?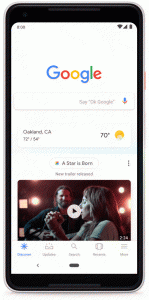 Google Discover is the new name given to the Google feed. Google discover comes with a new look and design and other classy and exhaustive features and delivers good content to the users. The new look comes with new topic headers which give a glance to users what they are watching in the content screen. It also explains why the users is seeing the particular content in the Discover section. So that whenever the user feels the topic interesting he can go deeper and explore more topics as well.
So in this, there will be a new Discover icon beside each topic in the feed, So that particular card will give them access to the users to follow the new content that he/she is interested to explore.
Google discover also comes with Layer in the Knowledge Graph to predict the level of expertise on a topic, helping users develop those interests further.

Customization in Google discover feed
The Google says that the new feed has become more personalized and Customizable as well. It involves a feature to customize the content, So the users can simply tap on control icon in Discover to choose whether he/she wants to prefer less content or more content for that specific topic.
Google is coming up with these kind of lot of AI features to make the User tasks, even more, easier, let's see what comes next.
Similar Posts: