North East West South is what people think NEWS stands for, but did you know, NEWS is a list or collection of Notable, Events, Weather, and Sports presented through a medium. The 'news' word was derived from 'new', which implies providing new information.
NEWS – presenting new or updated notable events including weather and sports.
NEWS helps you staying updated with the day to day happenings in our surroundings. As technology has advanced, the medium of delivering of news has changed too. From reading chore newspapers to delivering interactive content through apps that support videos, gifs, images, sounds and hundreds of formatting options, the medium has evolved too much. In the past 5 years, the sale of newspapers has decreased significantly all over the globe. Analyzing the cause which is none but cheaper Internet, most of the NEWS channels and Newspaper companies have realized the importance of switching from scheduled content to on-demand content. Unlike previous years, where users waited for specific news to be telecasted on the T.V. or waiting one whole day for the next edition of a newspaper, the users now prefer watching news Online.
Thanks to the digital revolution, that people are sharing news as posts through their social media accounts. Companies such as google and yahoo have tried to integrate news with their apps and search engines to keep the user updated. Also, Google has developed an application especially for news purposes, known as Google News. The search engines like Google Chrome, Yahoo, Bing, Microsoft Edge, have started providing recent updates not only because it brings more users to their websites, but also make their ordinary webpages more interactive and useful. Google has tried to link its Artificial Intelligence and machine learning algorithms with its apps to provide personalise news feed to the users. Users tend to receive more updates on the basis of the genre they like more.
List of Top 10 News Websites
Even after so many advancements in these applications, there emerges a need for some NEWS dedicated websites, probably because these apps provide vague news.
Therefore, here are the top 10 most useful and popular NEWS websites:
1. Yahoo! News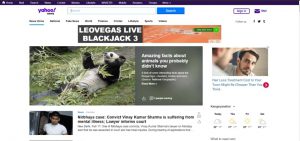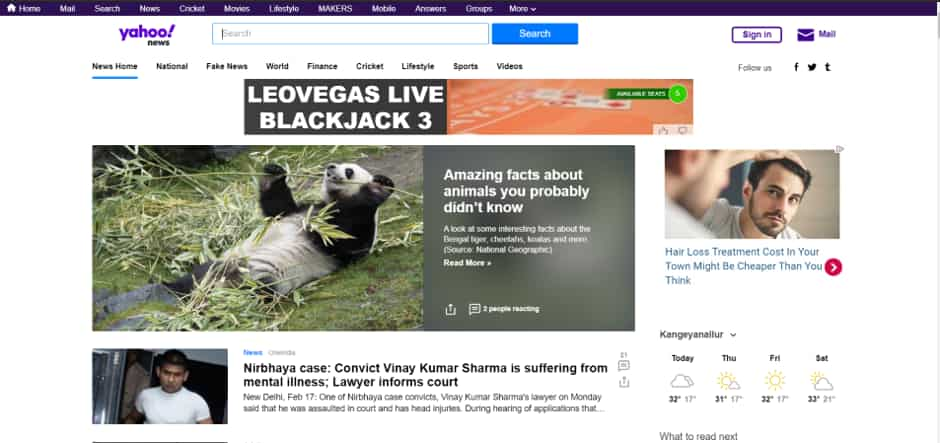 Being a successful search engine service, Yahoo was one of the leading companies to offer e-mail services before google took hold of the market. Still, having immense popularity, the makers of company thought to add an additional feature of NEWS to their website. The NEWS website makes a whooping 175M views per month. Brief notes about happenings and a clean interface along with organised dashboard is what ranks this website on top. The search engine feature allows https://in.news.yahoo.com/ to be mentioned in the lists of top search engines as well.
2. Google News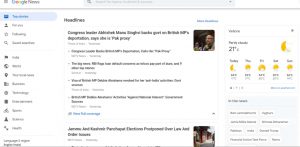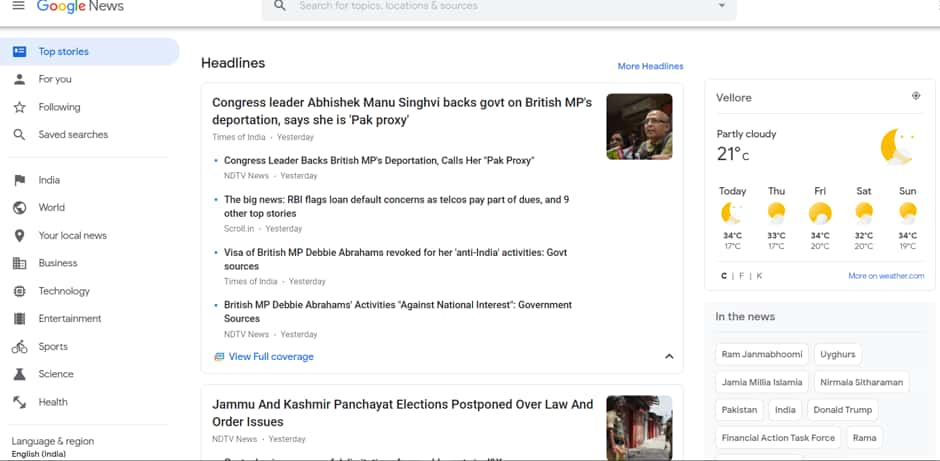 Google News has been immensely popular since android made this application as one of bloatware. Hardcoding Google news app in new devices, was the strategy google adopted to find more views on there new news venture. The company has tried integrating concepts of machine learning with their website by linking the website to user's Gmail account and saving his genre, so as to provide news according to the taste of the user. Along with clean white background, a side navigation bar, makes it easier for viewers to browse through the news. Google news also provides a dark mode.
3. TOI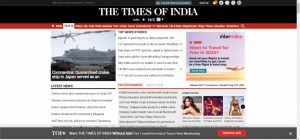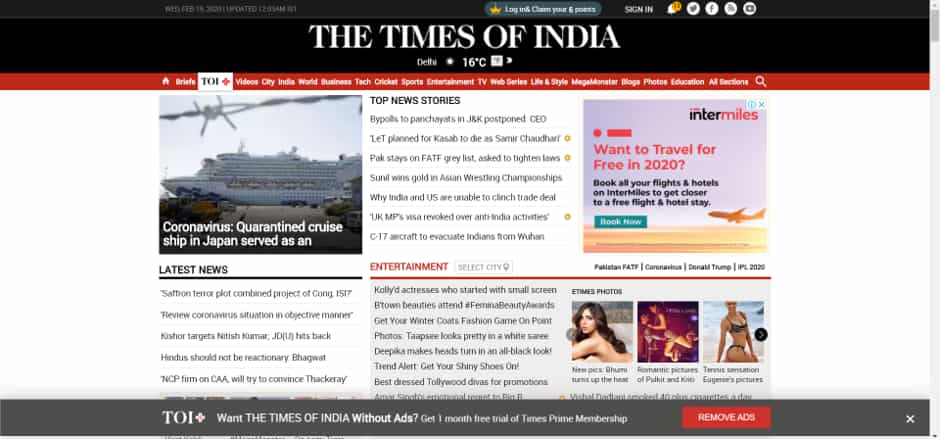 With its headquarters located in New Delhi, the website is made by the famous newspaper selling company The Times of India. The website makes sure its users remain up to date by posting more than 25 posts a day. The website is efficiently developed, keeping in mind the visibility of context and provides a separate websites for mobile users for proper orientation. You can find the official website link as:
https://timesofindia.indiatimes.com/
the website has several sections including politics, foreign affairs, Bollywood, cricket, sports, technology, temperature and other natural happenings, life style section. Business sections and some exclusive photo section. The site provides a free 1 month prime membership to avail extra benefits such as adless news.
4. NDTV News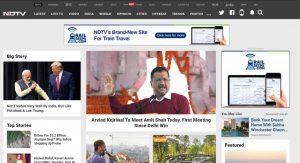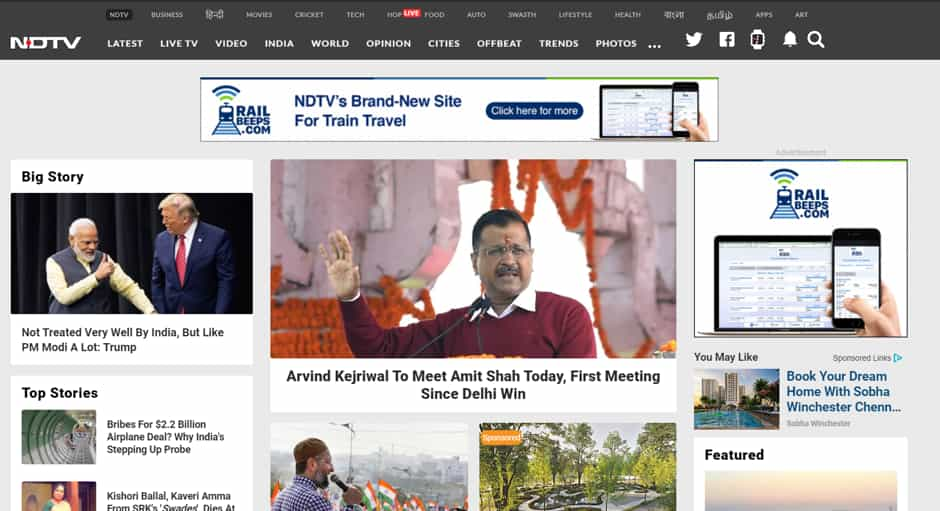 With more than 30 posts per day, the editors of this website try their level best to keep their users up to date with genuine and complete information. The website content is in English; however, Bangla and Telugu are also supported.
5. India Today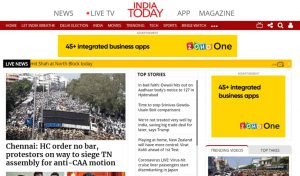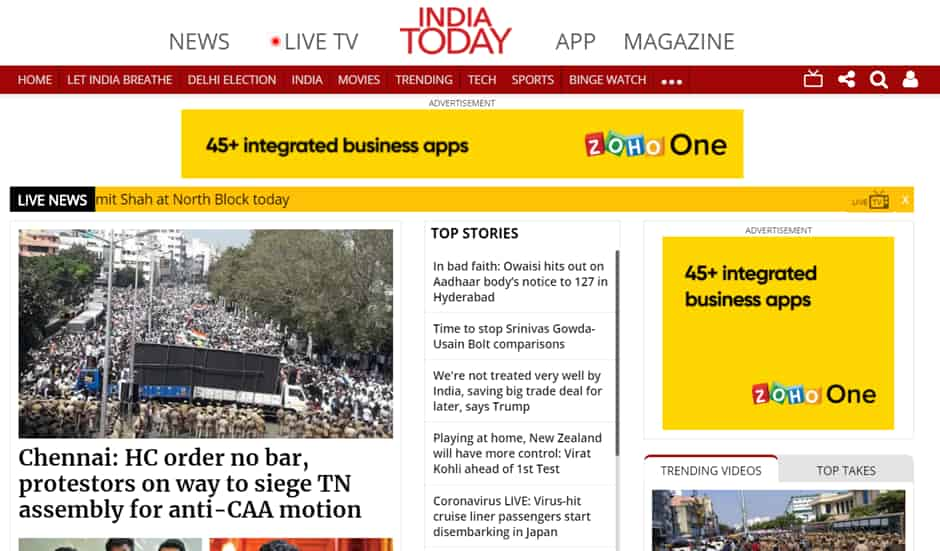 Not only a website, India Today publishes a weekly magazine, has a news channel and even an application that provides you with daily updates and notifications for breaking news. With around 30 posts per day, it tries to keep its users aware of all the happenings.
6. The Hindu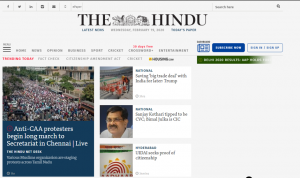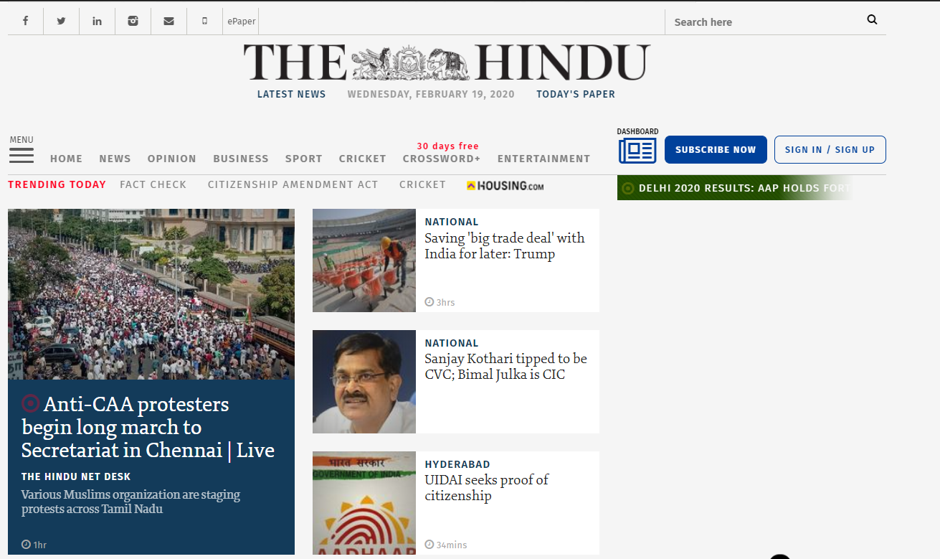 Started with the newspaper, this website is the choice for all those preparing for government exams. With almost every single update, the website's editors try to provide most relevant news along with source.
7. DNA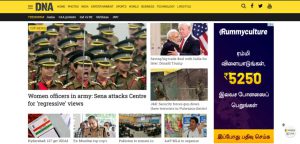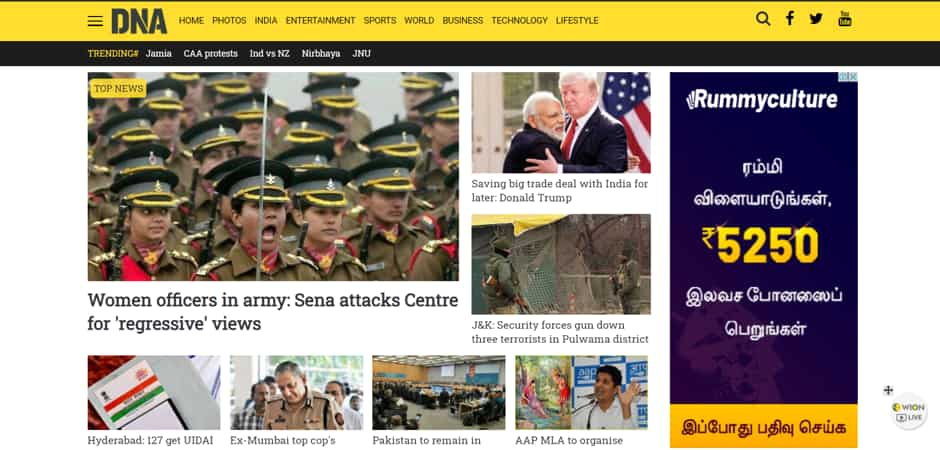 The website's main focus is to keep things short, to the point and deliver detailed news with minimum words. Proper demonstration using videos and images are the key factor in success of this website.
8. Deccan Chronicle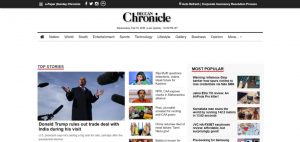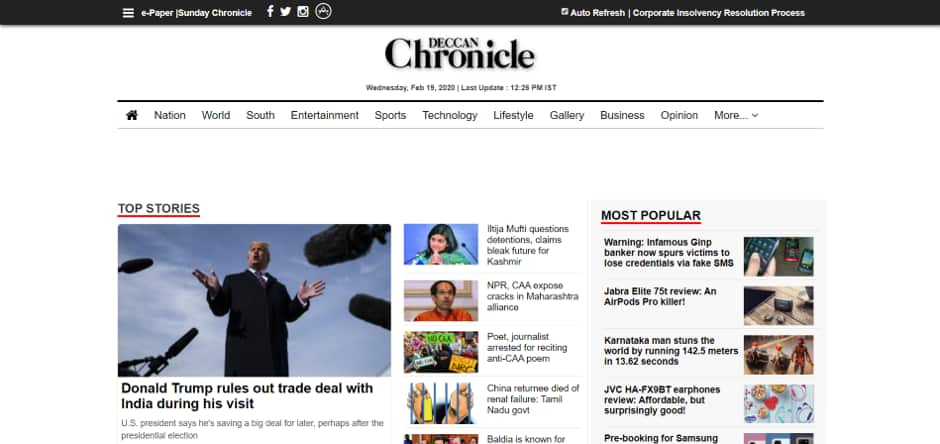 The newspaper company moved to e platform after realising how easy it is to reach people through internet. Most of the content is in English. Clean interface and short headings are the features of this website. There is an auto refresh feature, which helps user read latest news first. Short headings are provided on the homepage, user may proceed to detailed section by clicking on respective article.
https://www.deccanchronicle.com/
9. The Financial Express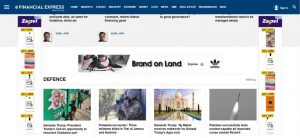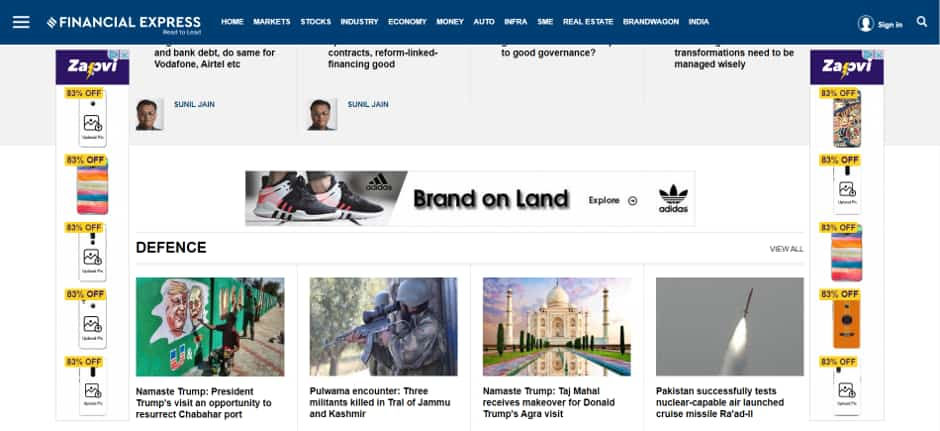 The main focus is to deliver information related to stocks, bonds, gold rates, SENSEX, NIFTY, Crude oil, USD, GBPINR and a lot more. With its slogan "Read to Lead", financial express stands top news website for economists. Mobile apps are available or Android and iOS.
https://www.financialexpress.com/
10. BBC News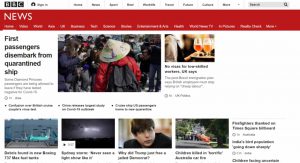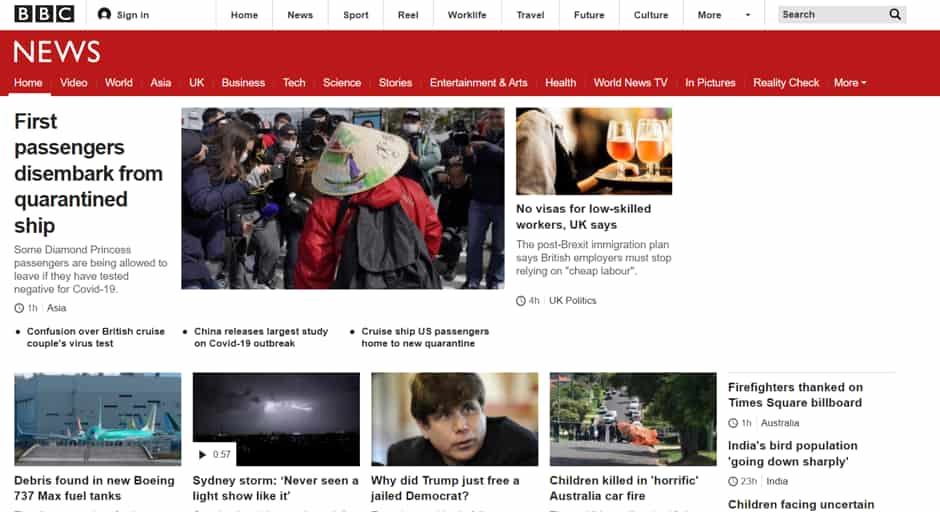 With more than 35M visitors every month, the British broadcasting channel is one of the most popular websites on the World Wide Web. The global site has several sections for news specific to Asia, UK, Science, Stories, Technology and World. The content is supported with active graphic contents to engage users. BBC has made application for Android and iOS is available. Apart from this, users can also subscribe to daily news on their e-mail through BBC's official website.
Also check:
Conclusion
So, these were the top news websites that are worth switching. Hope this article was informative.
Similar Posts: