Introduction
The Bendy series is probably one of the most unique game series there is out there. It has a such a classic and vintage feel to it. The Bendy series fall under the horror category and is genuinely quite creepy. The game might not contain scary faces or monsters or any sort of paranormal activity like almost every horror game, but the mix of the dated music, the old-fashioned graphics and the entire feeling of suspense make the game very eerie. This series was born in 2017, when Bendy and Ink Machine was released.
Ever since the first chapter came out this series came out it quickly grew and became an instant success. After that, Joey Drew Studios released 5 more chapters. Chapter One: Moving Pictures, Chapter Two: The Old Song, Chapter Three: Rise and Fall; Chapter Four: Colossal Wonders, Chapter Five: The Last Reel and a special chapter called Chapter ?: The Archives were the 6 chapters released. This year Bendy and the Dark Revival came out which is the second installment to the main series, with a one chapter so far.
In addition to that, Joey Drew Studios even came out with spin-off games, namely Bendy in Nightmare Run and Boris and the Dark Survival. Furthermore, there have been books, comics, novels, guidebooks, short animations and even a music album! So, as you can see since its inception the Bendy series has been quite successful and is continuing to grow. With that brief introduction, today we'll go through the features of Bendy in Nightmare Run. 
Bendy in Nightmare Run MOD Apk features
Graphics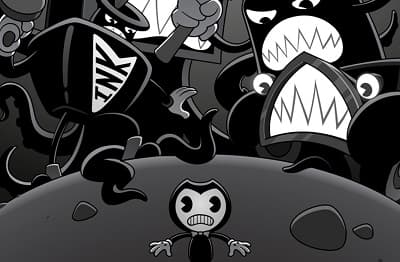 Bendy is known for its unique graphics. The 3D models used in the game have unique textures, the display is sort of pixelated giving it a high vintage feel and the animations are pretty similar to cartoons when they first came out. The music incorporated within the game, also gives a classic feel to you whilst your playing and makes you feel like you're in the 70s with beautiful ballroom music. So, in terms of production, this game is very special. The coolest thing, that game is in black and white. 
Gameplay
The objective and gameplay is fairly straightforward. It is a 'runner' type game so it's similar to other famous runner types games like Subway Surfers, Temple Run and Sonic Dash. But in terms of perspective, you see Bendy running towards the camera rather than away from the camera. To complete a particular level, you need to defeat the boss that is chasing you and you need to get rid of other pesky mobs (Mobile Objects) or NPCs (Non Player Characters) that are chasing you as well. Each boss chasing you has a health bar and to kill them you need to collect weapons and fling them towards the boss. In terms of movement, you can jump, move left or right and stomp. If you get attacked by an NPC, you can heal yourself by collecting health powerups. While running away from the cartoon boss you need to collect cans of Bacon Soup. Bacon Soup cans are like the in-game currency that you can use to purchase different weapons and costumes. 
Characters and Levels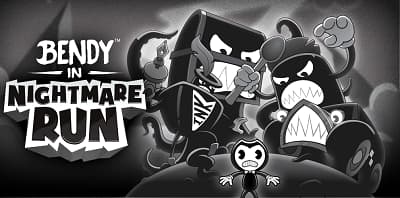 There are three main characters you can choose from and play with and they are:
BENDY

BORIS THE WOLF 

ALICE ANGEL 
The scary bosses that you get chased by are:
CHESTER

GASKETTE

CANOODLE

DEWEY 
The annoying NPCs that are chasing you as well and continuously attacking you are:
KRAWLS

STICKLES 

GWENS 
There are four different playable levels with a different boss in each level. Each map or level is unique in terms of design and the traps that come with it. 
Upgrades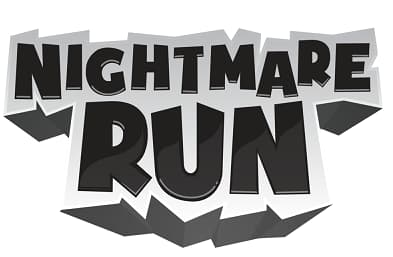 As mentioned previously, you can purchase costumes and weapons using Bacon Soup Cans and you can even equip your character with powers and abilities so that it helps him/her defeat the bosses much more easily and just cruise through the obstacle courses. An example of an upgrade is the Magnet ability that lets you collect Bacon Soup cans easily during gameplay. 
With the MOD APK you get, unlimited coins, all chapter are unlocked and immortality. 
Steps to Bendy in NightMare Run MOD Apk with download links
| | |
| --- | --- |
| Title | Bendy in NightMare Run |
| Version | 1.4.3676 |
| Platform | Android |
| Publisher | Joey Drew Studios |
| Rating | 4.4 |
| Size | 57MB |
Steps to follow
Click download and wait for the Bendy in Nightmare Run Mod apk to download.

This downloaded file can be saved on either your phone's memory or your SD card.

Install the APK file in your device by allowing Unknown Application Permission first.

The previous step is required for installing third-party applications without any issue. 

After that, go back to the download folder, open the Bendy in Nightmare Run mod apk and enjoy. 
Download Bendy in NightMare Run MOD Apk
[custombutton url="https://www.techholicz.com/download-mod-apk/" target="_blank" text="Download Bendy in NightMare Run MOD Apk"]
Conclusion
Bendy in Nightmare Run is definitely a unique game and very entertaining. So follow the installation steps, open the file and enjoy!
Similar Posts: