Xiaomi redmi note 4 was released on January 2017. The OS platform for this smartphone is Android 6.0 (Marshmellow), Nougat 7.0 and MIUI 11. It has a Cortex – A53 processor which has a higher power efficiency and significantly high performance. Cortex A-53 processor is
developed by ARM developers. It is the company's first Arm v – 8 architecture with 64-bit data processing, extended virtual addressing and 64-bit general-purpose registers. The Graphical User Interface for Redmi 4 is Adreno 506. Adreno 506 is a mobile graphic card which is mostly used across Android platforms. It is also called as Qualcomm Adreno 506 and is based on Adreno 500 architecture. The general core speed is 650 MHZ. It is one of the best midrange GPU.
Android Nougat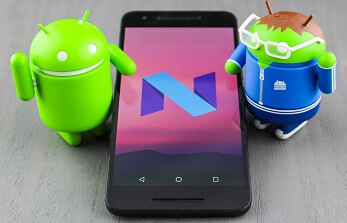 Android Nougat with the code name Android-N is the seventh original version and the 14th major version of the Android Operating System. It is also the new version of Google's Mobile operating system It was first released for Nexus Devices. The LG V20 was the first smartphone released with Nougat. One of the brilliant features of Android Nougat is it's the ability to display multiple apps on-screen at once with a split-screen view. It has a "Doze" power-saving mode that restricts the functionality of the device once the screen is off for some time. It has received support from Vulkan Graphics rendering Application Program Interface which is a tool for building software applications.
Android Nougat 7.0 is a great update which comes with longer battery life. It allows the user to switch between two apps. Bundled notification is available and also notification direct reply. Not only the size of the text but also the size of the icons be changed. High-quality Virtual Reality is also available under Android Nougat. Android is also built with powerful layers of security and encryption to keep the user's private data private. Seamless updates, File-based encryption and Direct bot are some features of Android Nougat. The OS is generally small in size. In split-screen mode, Nougat behaves similarly to Windows and iOS.There is also an improvement in Facial recognition, one of Google's smart lock feature.
How to Install Android Nougat 7.0 in XIAOMI REDMI NOTE 4?
The update of Android Nougat is introduced to the public through Over The Air (OTA) programming and it is based on MIUI 8.4,4.0.MIUI is an Android-based Operating System for Mi and Redmi phones. The update size is 1.3 GB which also brings along Android Security Pack with it. The Redmi Note 4 is confirmed to get MIUI 9 update and the Global Beta ROM is also released. Beta ROM is a ROM that is built before the stable ones, mainly for checking and debugging purpose. The MIUI Global 8 Beta ROM 7.1.19 is based on Nougat 7.0. Xiaomi considers it quite stable and can be used as a daily driver without any issues. The 'Beta tag' is more likely not to work perfectly as expected.
Also check:
List of Android 10 Supported Xiaomi Mi and Redmi Devices [2020 Update list]
Installation
The installation is a fast boot method based update for which a pc or laptop is needed.
Here are some step by step procedures
Before Flashing, request to unlock the bootloader of Redmi Note 4.
To make the first step to happen, go to en.miui.com/unlock/ and then click unlock now.
Sign in with MI account, phone number and few details that serve the purpose of unlocking the bootloader.
If the request is accepted, the user will receive a text message or email response about the same.
Download the Mi Unlock app.
http://en.miui.com/unlock/download_en.html
Detailed procedure to install Nougat 7.0 in Redmi Note 4
Grab the MIUI ROM flashing tool under quick access menu on your pc.
Download the compatible ROM for Redmi note 4.Save it on the desktop and unzip it using a tool like Winzip. Inside the folder, a few files and folders can be seen.
Click on the "Fast mode" on your device. Turn off the device, wait for 10 seconds and press on the volume up and turn off button simultaneously. The phone might have been rebooted in fast mode.
Connect your device to a Pc using a data cable and run the Mi Unlock app to get the bootloader unlocked.
FLASH THE ANDROID NOUGAT ROM
Open Mi Flash tool. In the folder location where files were extracted earlier, click on the refresh button.
The downloaded ROM will exist in the downloaded list. At the bottom right corner of a notification bar which shows up, select "clean all", radio button. Click on the Flash button on the top right corner. This process is called "Flashing". Once the process is completed, a notification message box saying "operation completed" will be displayed.
THE FINAL VERDICT
Owing to its amazing features like extraordinary storage capacity, longer battery life and Android security, Nougat 7.0 proves to be a well-updated Operating system, especially for Redmi Note 4 device. The main process of installing the OS in the device is through Flashing. Above are detailed explanation about how the installation is done.
Similar Posts: